Edin Velez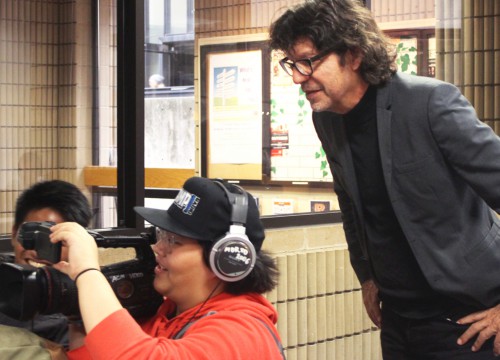 Edin Velez is a Professor and Program Coordinator in the Video Production Program.
Born and raised in Puerto Rico, Edin Velez moved to the US in the early seventies and became part of the first generation of video artists working in SoHo. Over the decades, his work in non- fiction video has expanded the form in creative new way and has won many awards including the American Film Institute's Maya Deren Award and First Prize at The U.S. Film and Video Festival, Guggenheim Fellowship and Rockefeller Foundation Fellowship among others.
His feature film " A Certain Foolish Consistency" premiered at Lincoln Center's Walter Reade Theater.
His award winning documentary on Japanese Butoh, Dance of Darkness, was broadcast nationally in the USA by PBS and internationally in France and Germany by ARTE TV.
His works have been exhibited at the Whitney Biennial, Documenta 8, Sao Paolo Biennial, The Tate Gallery, and the Louvre Museum, among others. They are in the permanent collections of the Museum of Modern Art: New York, Stedelijk Museum, Amsterdam; Hara Museum, Japan, and others.
The National Museum of Contemporary Art, Beijing, China, screened his video Meta Mayan II as part of the exhibition Synthetic Times curated in conjunction with the Olympic Games in 2008.
The Mori Museum of Art, Tokyo, included his video Meta Mayan II in their exhibition Modern Means This landmark survey of roughly 290 works represents a narrative of the development of modern art from the end of the nineteenth century to the present. It included artists such as Picasso, Gauguin, Rauschenberg, and Warhol.
RAIN SEQUENCE
By Edin Velez
Excerpt from State of Rest and Motion, a video essay on the NYC subways.
DANCE OF DARKNESS: EXCERPTS
By Edin Velez
Documentary on Japanese Butoh Dance.